Thin
by tommy kirchhoff
Bearing softly breaches in the balance wearing thin,
my teacup sips a subtle bitter taste—unsweetened sin.
But lack of savored sugar makes not my bitter tea.
A sweetened, social sip alone a thinning balance be.
Tea's a fancy smelling thing to conversation brood—
a delicate delightful thing so set a social mood.
With painted teacup roses, and flowered teapot steam,
the subtleties of sharing truth allow accord—brew deemed.
Steeping barely by the pouch of pekoe without boil,
the liquid strains to smartly gain the glow of amber oil.
But lack of warmth and scant a stir will tea uncivilize.
In solitary mixing thin,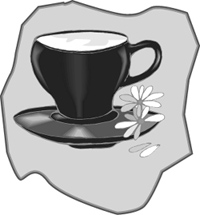 a precious liquid dies.