Wild Card
According to the 2000 census, the estimated population of Utah on April 1st, 2000 was 2,233,169. According to Glenmary Research and the published findings of the American Religion Data Archive, The Church of Jesus Christ of Latter Day Saints had 1,483,858 adherents (members) at that time.
In 1990, the estimated population of the State of Utah was 1,729,227. The Mormon church's estimated adherents at that time were 1,236,242, or roughly seventy one and a half percent (71.5%) of the total population. Therefore, the actual percentage of Mormons in the state of Utah was sixty six percent (66%) in 2000, and based on a steady decrease in Mormon density, the percentage of Mormons in Utah in 2003 is approximately sixty four percent (64%).
By these numbers, Mormons should become the minority in Utah by the year 2033; this estimate does not take into account the massive expected influx of new residents from out of state. When this is taken into account, Mormons should become the minority by the year 2014 (best guess...).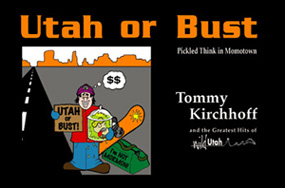 The greatest hits of Wild Utah is available in book form. Click on the Utah or Bust image for the link.
Utah
Skiable acres within 60 miles of an international airport: 21,675 acres
Colorado
Skiable acres within 60 miles of an international airport: 3245 acres
Utah
Average resort snowfall: 417 inches annually
Colorado
Average resort snowfall: 273 inches annually