Get Excited! In just a few weeks, "Utah or Bust" will hit the local market. This book is the greatest hits of Wild Utah--and you know what that means:
Tommy Kirchhoff, Sky, Andrew Haley, Al Fonzarelli, Dustin Sturges, Mark Driver and so much more! It's more Utah Molympic humor than anything you've ever seen!
All parts of the book are available at www.utahorbust.com absolutely free! Or wait for the real deal to be in stores for $12.95 in December.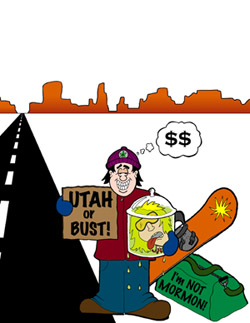 Recognize these dumbasses?